Waybinder
Waybinding at Nordic Game 2019
---
Waybinder has just had its first public outing, at the Nordic Game Conference in Malmö, southern Sweden, which has resulted in one small bugfix and some lovely feedback.
I'd like to extend special thanks to those of you who have supported the game with a donation, as I was able to put that money towards some lovely LED candles. The 'booth' was made that bit cosier by your patronage, and it brought a welcome warmth to the rituals which took place there!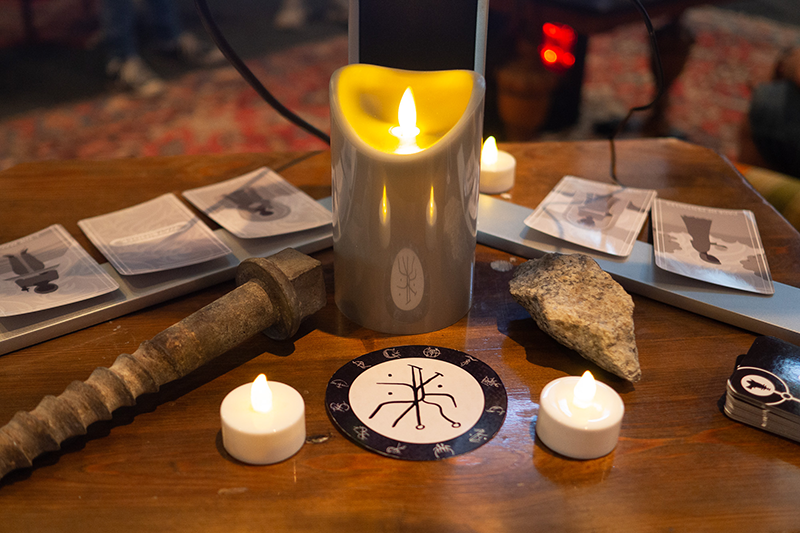 The shrine setup included printed tarot cards and an actual, discarded chair screw from North Yorkshire's Esk Valley railway line.
Waybinder was selected by the Copenhagen Game Collective to be part of the Yonderplay showcase: a curated day of games which are personal, quirky, experimental and/or charming in their own ways. It was an ideal space in which to share such a text-heavy Twine game, tucked away as it was from the main expo floor; replete with comfy armchairs and cosy atmosphere.

My presentation of the game involved a live reading, which a few people expressed pleasure in. I'm therefore keen to release an interactive audiobook version of Waybinder one day — however as of yet, I do not quite have the kind of audio equipment which can really do that justice. I'll keep it firmly in mind though, should more folks happen to want to/are able to donate any amount towards future development!
Yonderplay was the first of what I hope will be at least a few more outings for this ritual in narrative form. I'll be sure to post updates whenever this occurs. For now, whether you've played at home via Itch.io or in the armchair at Nordic Game this week: thank you, and I hope you enjoy whatever else lays down the road for myself and Metrowitch Interactive.
Vägar vara nu stängd.